Enrollment Form
Please download and fill out the form (PDF) below.
Parents Testimonials
Just had to tell you that my daughter *loves* the Lango CD. Each morning this week since Spanish class, she runs into the living room and jumps up and down yelling, "dance, dance!"
I just want to let you know that my daughter, Casey, already loves Spanish. "Mommy, Spanish is cool!" is the exact quote I got this afternoon. Many thanks for working so hard to bring this great program to EARTHS!
We have all learned many Spanish words and phrases. My kids both have absorbed the language like little fish. They usually remember words and phrases that I do not and they are always asking me how to say certain things in Spanish (which either have to look up or ask Kelli).
I highly recommend Kelli and the Lango class!
My girls love this really dynamic class! The music and games are fun, the teaching style is lively and entertaining. A great find.
We are very pleased with the teacher and the class. Philip re-named his doggie Cosmo. We have been involved in other classes and by comparison, this teacher is great, animated, uses every chance she can get to introduce new words and is wonderfully unbothered by all the distractions.
Language Learning Materials for Lango Students
Lango has developed a unique set of materials and learning aides to help kids learn while having fun. Books, flash cards, music, and dolls.
Adventure Storybooks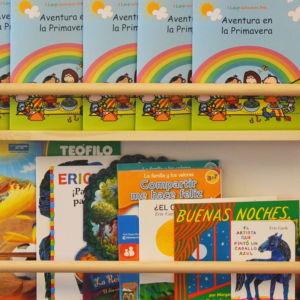 Lango's storybooks are the Adventures of the Lango Kids – Lucia, Luc, Wen and their adorable dog – Cosmo. Along with their teacher, Mrs. L, the group goes on many adventures from the city, to a farm, to a jungle and more. Each chapter centers conveys a specific set of vocabulary and grammatical topics; in class, our students learn those terms and topics by taking part in similar activities –"adventures" – as Cosmo. Kids of various ages love our colorful, playful storybooks, which provide a simple way to access a new language.
Spanish, French and Mandarin Music
Kids in Lango classes love learning as they sing and dance along with Lango Adventure CDs.Our Spanish, French and Mandarin music is aligned closely with our lessons, so not only do kids read about and mimic Cosmo's adventures in class, but they sing about them as well.
Lango Kids Dolls
Kids follow the adventures of the "Lango Kids", our multicultural cast of characters and Cosmo the Lango bulldog. The children then learn through their own "adventures", music, games, art projects, and group activities.
Language Flashcards
Supporting all of this are our memory/flashcards. Using the same kid-friendly illustrations as in our storybooks, we put these cards to use in a variety of ways in class, and then provide ideas for their use at home. Parents tell us that they find them to be a great tool for reinforcing instruction, and kids enjoy using them, as they feel comfortable seeing the same familiar images that they see elsewhere at Lango.
Parent Resources
Students taking Lango classes have free access to the Lango Resource Center located at LangoKidsOnline.com. There they can turn the pages and listen to an audio book of each of our Adventure Books, read aloud by a native speaker in Spanish, French and Mandarin. They can practice with the audio flashcards, download worksheets and coloring books and listen to our catchy music. If you need help with the registration process and navigating the Resource Center, see the tutorials below.